3 Bedroom Apartments In Sarasota FL
Your search for 3 bedroom apartments in Sarasota, FL won't be complete without visiting L'Estancia.
These beautiful garden apartments sit on 28 acres and are surrounded by great dining, shopping, and golf destinations. Make this community your home and you'll be able to live your dream life just minutes from Siesta Key and the gorgeous white sand of the Gulf beaches.
These apartments were designed with an easy, convenient lifestyle in mind. Contact L'Estancia today to schedule a tour and see what we mean.
3 Bedroom Apartments In Sarasota, FL You Don't Want To Miss
L' Estancia offers two different 3 bedroom apartment floor plans, both as unique as the famous painters they're named for.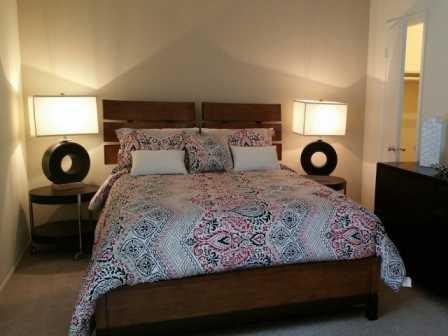 The Picasso floor plan features three bedrooms on a single level with two bathrooms and plenty of living space. The Monet floor plan features a single bedroom on the main floor along with a spacious living area. Two additional bedrooms are located upstairs with a bathroom on each level.
The Picasso floor plans encompass 1,149 square feet of space while the Monet is 1,251 square feet in size.
Every apartment at L'Estancia, including the 1 and 2 bedroom units, features central air conditioning and a kitchen with abundant counter space and high-quality appliances, including a dishwasher. No matter which apartment you choose, you'll also enjoy your own private patio or balcony.
Additionally, these 3 bedroom apartments include washer/dryer hookups, and laundry facilities are provided for residents.
A Community With Tons Of Great Amenities
Within L'Estancia, you'll find a wonderful selection of amenities just steps from your apartment door. No matter your schedule, you'll be able to use our 24-hour fitness gym for your exercise needs. And in addition to taking care of your own body, you'll have access to a car care center where you can take care of your car's body. Other amenities include tennis and volleyball courts and an outdoor swimming pool.
L'Estancia is also pet friendly. A maximum of 2 cats and/or dogs is allowed in each apartment and a one-time fee of $350 per pet is required; pet rent is $20 per month. For more about the community's pet policy, please contact the leasing office.
We Invite You To Visit L' Estancia
Now that you know more about these beautiful 3 bedroom apartments in Sarasota, FL, we want to meet you and show you your next home. Contact L' Estancia today and schedule a personal tour!